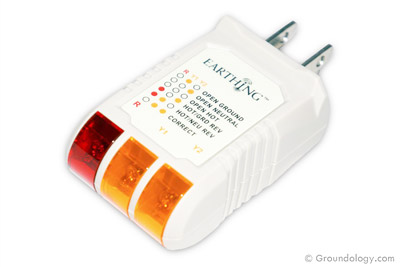 A mains outlet tester for North American type sockets.
Since it is not uncommon for sockets of this type to be missing an Earth connection, it is highly recommended that you test outlets with a socket tester. Be sure to test every outlet you use, as often 3 pin sockets can be properly earthed in some rooms (e.g. kitchens and bathrooms) while not being earthed in other rooms (e.g. bedrooms).
Note: This socket tester is included as standard with each grounding product when the North American connection option is chosen. i.e. You don't need to purchase an additional tester if you are also purchasing a product with Connection for North America.