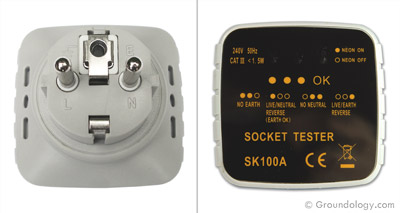 This tester verifies that a European type mains outlet socket is wired properly and grounded.
It should be stressed that even if your outlet socket were wired improperly, there is no danger of electrocution when using Groundology equipment, because our products have built in safety protection. However, if your outlet socket is not wired properly then you would not get the benefits of grounding.
Country specific notes:
Some older houses in
Norway, Iceland
and some parts of
Belgium
use the "IT" mains earthing system. While the "IT" system is suitable to use with our products, the socket tester is not able to verify the earth in this case (it will show "No Earth"). If you live in Norway, Iceland or Belgium and are not sure if your house is earthed, please check with a local electrician.
Some older houses in
Sweden
may still use the historic "TN-C" earthing system which is not well suited to personal grounding. If you live in an older building in Sweden we'd recommend checking with a local electrician who will be able to confirm if the modern "TN-C-S" system is used (which is suitable for personal grounding). If it's not practical to get your system checked, you can instead use a
Grounding rod kit
or
Grounding pipe clamp
instead.