Due to the growing popularity of these products, there are now imitations and counterfeits appearing on the market. Everything here is a genuine Earthing™ or Groundology™ product. Please be aware that official distributors are not permitted to sell on marketplaces such as Amazon and eBay, and so products sold there are not likely to be genuine.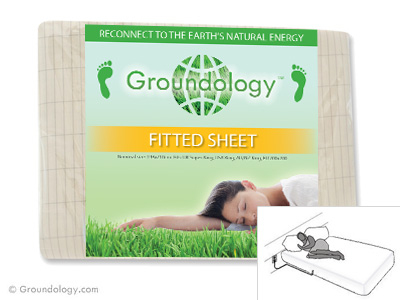 This will fit a UK Emperor mattress. This size is known as "King" in the US, and "Super King" in Australia & New Zealand.
This is a fully fitted grounding / earthing bed sheet for whole body grounding while sleeping. It is 100% organic cotton with soft, yet durable conductive silver fibres woven throughout the material – in total each sheet contains over 1/2 mile of silver.
The sheets have generous side pockets, and so will fit even very thick mattresses. The elasticated side pockets and slight stretch to the fabric mean that they will also fit slightly larger or smaller mattresses than the nominal size.
Colour is natural cotton (off-white). The sheets have a connection stud at the edge where the connection cord fits.
The product set includes everything you need for use: the grounding sheet, a 4.6m (15ft) connection cord, and your choice of Earth connection.
Direct skin contact with the sheet is required for optimal use.
Washing and care instructions
It is good to wash your grounding product. It will not be harmed by washing, in fact it is beneficial. Washing strips body sweat and natural skin oils from the silver keeping it conductive.
DOs
Wash every week or two
Wash in a washing machine with warm water (40°C / 105°F)
Use a liquid laundry detergent (
this detergent
is our specific recommendation)
Line dry or dry in a dryer on low (up to 65°C / 150°F)
Can be ironed on a low heat if desired
DON'Ts
Don't wash with bleach
Don't wash with fabric softeners
Don't use whitening detergents, oxi-detergents
Don't use detergents with strong fragrances (either chemical or essential oil based)
Don't use dryer sheet fabric softeners
Don't dry clean
Bleach, lotions and oils can tarnish the silver rendering it non-conductive. Fabric softener builds up on the silver and will eventually ruin its conductive properties. Please also check/clean the detergent drawer of your washing machine for residues of other detergents, since many detergents (particularly powders) contain whitening agents which will harm the silver, even in small quantities.
It is advised to wait one hour to use the product after applying oils or lotions to the skin.

Download the user guide for this product
Currently out of stock - expected on 8th December
Optional accessories: