Due to the growing popularity of these products, there are now imitations and counterfeits appearing on the market. Everything here is a genuine Earthing™ or Groundology™ product. Please be aware that official distributors are not permitted to sell on marketplaces such as Amazon and eBay, and so products sold there are not likely to be genuine.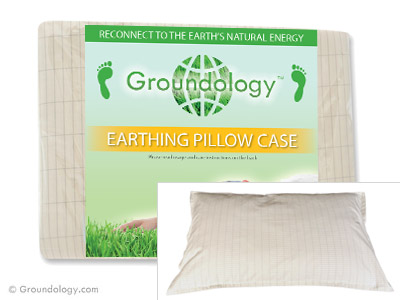 The Earthing pillow case is made with the same natural cotton and silver fibres as the Earthing sheets.
It is 50cm x 80cm (20" x 32") and is conductive on both sides.
A 6m (20ft) coiled connection cord is included with the pillow case. Note that
no connection plug is included
, since most people will use the pillow case in conjunction with an Earthing sheet, and the two products can share the same plug. (The connection plugs generally include two sockets which is enough to connect a sheet and one pillow case. To connect a sheet and two pillow cases, it is necessary to purchase an additional
Earth connection plug
or a
Grounding extension box
.)
To use the pillow case as a standalone product, it is necessary to purchase a separate
Earth connection plug
.
Washing and care instructions
It is good to wash your pillowcase. It will not be harmed by washing, in fact it is beneficial. Washing strips body sweat and natural skin oils from the silver keeping it conductive.
DOs
Wash every week or two
Wash in a washing machine with warm water (40°C / 105°F)
Use a liquid laundry detergent
Line dry or dry in a dryer on low (up to 65°C / 150°F)
Can be ironed on a low heat if desired
DON'Ts
Don't wash with bleach
Don't wash with fabric softeners
Don't use whitening detergents, oxi-detergents OR detergents with oils like lavender or coconut oil
Don't use dryer sheet fabric softeners
Don't dry clean
Bleach, lotions and oils can tarnish the silver rendering it non conductive. Fabric softener builds up on the silver and also ruins its conductive properties.
It is advised to wait one hour to use the product after applying lotion to the skin.

Download the user guide for this product
Optional accessories:

Earth connection plug

2 into 1 splitter

Socket Tester