Due to the growing popularity of these products, there are now imitations and counterfeits appearing on the market. Everything here is a genuine Earthing™ or Groundology™ product. Please be aware that official distributors are not permitted to sell on marketplaces such as Amazon and eBay, and so products sold there are not likely to be genuine.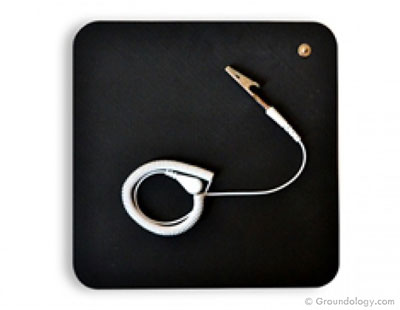 Conductive grounding mat / pad, designed to be used in a vehicle.
This is a 25cm x 25cm (10" x 10") mat, impregnated with conductive carbon.
It comes complete with a short connection cord with a crocodile clip that is designed to clip onto a metal part of a vehicle. In a car, this would typically be the frame under the seat (sometimes it may be necessary to file off a small area of paint to get a good electrical connection to the metal).
Use of this mat in a vehicle is somewhat different to earthing in a building where you are connecting to the actual Earth. In a vehicle you are simply connecting to the mass of the vehicle, and thus preventing any build up of differential charge between your body and the vehicle body. Studies have shown this can help with travel sickness and driving fatigue.
Since the function is only to prevent build up of static charge, it is sufficient to contact the mat through clothing – as opposed to regular earthing which works better when there is bare skin contact.