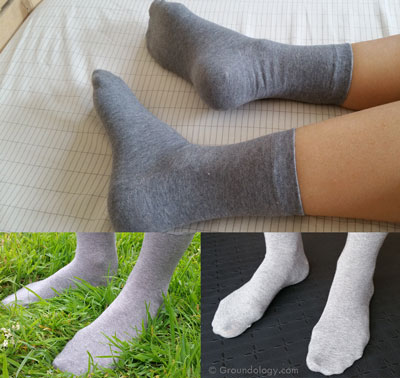 Premium quality conductive socks with the highest silver content on the market. This means they are highly conductive, with strong antibacterial properties.
They will ground your body while keeping your feet warm, when:
Silver has the highest reflectivity rating of any metal element which means it reflects external electromagnetic frequencies, but also reflects heat from the body (infra-red radiation) back towards the skin. This means the socks feel warm in cold conditions, while still being lightweight and ultra comfortable to wear.
Do not confuse our Grounding Socks with other cheaper 'silver socks' on the market – most of them have a very low silver fibre content. Our socks have the highest silver content on the market (22% silver fibre). Composition: 50% cotton, 25% nylon, 22% silver fibre, 3% spandex.
The socks are light grey in colour (the colour variation in the photos is due to different lighting conditions).
Please refer to the table below to choose the correct size:
Size
Women's sizes
UK
Europe
USA
Australia
M
5-8
38-42
7-10
6-9
L
9-12
43-47
11-14
10-13
Size
Men's sizes
UK
Europe
USA
Australia
M
5-8
38-42
5.5-8.5
5-8
L
9-12
43-47
9-13
9-12
Washing and care instructions
DOs
Wash in a washing machine with warm water (40°C / 105°F)
Use a liquid laundry detergent (
this detergent
is our specific recommendation)
Line dry or dry in a dryer on low (up to 65°C / 150°F)
Can be ironed on a low heat if desired
DON'Ts
Don't wash with bleach
Don't wash with fabric softeners
Don't use whitening detergents, oxi-detergents
Don't use detergents with strong fragrances (either chemical or essential oil based)
Don't use dryer sheet fabric softeners
Don't dry clean
Bleach, lotions and oils can tarnish the silver rendering it non-conductive. Fabric softener builds up on the silver and will eventually ruin its conductive properties. Please also check/clean the detergent drawer of your washing machine for residues of other detergents, since many detergents (particularly powders) contain whitening agents which will harm the silver, even in small quantities.
If using lotions or oils on your feet, it is advised to wait one hour before wearing the socks.