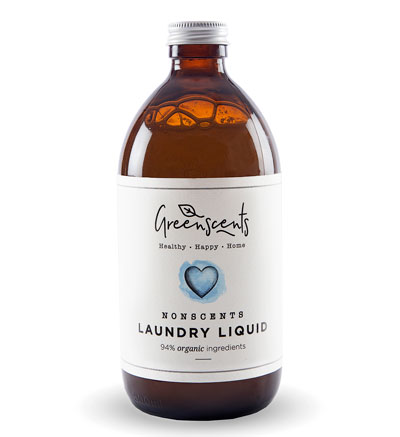 This is our recommended detergent for washing silver-fabric grounding products such as our grounding sheets, pillow cases, etc.
While there are other suitable detergents on the market, it is sometimes difficult to know whether a particular detergent contains an ingredient which could shorten the conductive life of the silver. While it is usually clear if a detergent contains a bleaching or whitening agent, sometimes other harmful chemicals can be hidden under general terms such as "Perfumes" or "Optical Brighteners". Hence we offer this Greenscents Laundry Liquid to make it easy to choose a suitable detergent.
Note:
Please also check/clean the detergent drawer of your washing machine for residues of other detergents, since many detergents (particularly powders) contain whitening agents which will harm the silver, even in small quantities.
About Greenscents Laundry Liquid
This concentrated organic Laundry Liquid has been formulated to clean your clothes without the use of environmentally damaging chemicals and production processes but is just as effective as the leading brands.
Greenscents organic Laundry Liquid cares for even the most sensitive skin and the Nonscents (unscented) range is ideal for babies and young children and those with allergies. The packaging is completely sustainable and 100% recyclable too (500ml size uses refillable glass bottles and 5L size uses a bio-polymer made from the waste products from sugar cane production).
When comparing prices, bear in mind that this Laundry Liquid is super-concentrated compared to most other detergents (which reduces packaging and transportation costs). Typically 500ml is enough for 22 washes (more in soft water), and 5L is enough for 220 washes.
Organic Percentage: 94%
Directions
Greenscents organic Laundry Liquid is super-concentrated. Just 20-25ml (4-5 teaspoons) is enough for a standard 5-6 kg wash. It can be placed in the drawer or directly into the drum. When washing grounding products, we recommend a maximum temperature of 40°C.
For a quick wash you may need less but in hard water areas you may need a little more. This product is suitable for all fabrics and excellent for delicates and woollens. Please always follow washing machine instructions. Greenscents laundry liquid can also be used for hand washing. We recommend 20-25ml in a bowl of warm to hot water.
Please store Greenscents Laundry Liquid at 5-25 degrees C and keep out of sunlight.
Ingredients
Aloe barbadensis (aloe vera leaf juice)**, decyl glucoside, sapindus mukorossi (soap nut shells)*, acetic acid (cider vinegar)*, xanthan gum, glycerine***, acacia concinna (shikakai shells), benzyl alcohol, dehydroacetic acid.
*organic, **organic juice from concentrate, ***organic origin